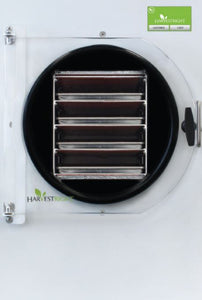 Harvest Right Four-Tray Freeze Dryer - Medium
Regular price $2,828.00 Sale
BY ORDER ONLY. CALL FOR MORE INFORMATION. 828-456-5310

Description:
Includes: Medium Freeze Dryer, Premier Vacuum Pump, Vacuum Pump Oil, Oil Filter, Stainless Steel Trays (set of 4), Guide to Freeze Drying, Mylar Bags (50 ct), Oxygen Absorbers (50 ct), Impulse Sealer.
Colors:  Comes in three colors:  Black, White, and Stainless Steel
Features: Freeze dry 1,450 pounds of fresh food per year (7-10 pounds per batch). In a year's time, you can freeze dry 312 gallons of food.
Dimensions: Perfect for counter top, cart, or table. 4 trays. 112 lbs. There is also a detachable vacuum pump that sits outside the freeze dryer. Premier Vacuum Pump: 32 lbs
Power:  110 volt outlet.
Shipping Info:  The medium freeze dryer ships in one package with a total weight of 212 lbs (221 lbs for stainless steel). Item will be delivered to physical addresses, no PO boxes.

Maintenance:  Simply filter and replace oil (unless you upgraded to an oil free pump). It just takes a couple of minutes.
Warranty:  Three-year limited warranty.
PRICING MAY CHANGE DUE TO SIZE, ACCESSORIES, AND DROP SHIPMENT