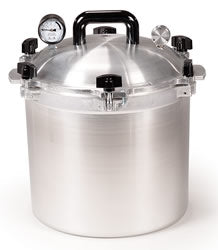 All American Model #921 21.5 Qt. Canner/Cooker
Regular price $419.95 Sale
ALL AMERICAN CANNERS WILL NOT BE AVAILABLE UNTIL AUGUST 2021!  PLEASE CALL TO GET YOUR NAME ON AN ORDER!
Only ALL-AMERICAN Pressure Canner/Cookers feature an exclusive, precision machined "metal-to-metal" sealing system. Positive action clamping locks align the cover to the base, forming a steam-tight seal. Since the seal does not use a gasket, the cover can be easily opened and closed. ALL-AMERICAN Pressure Canner/Cookers make it easy to can fish, meat, vegetables and fruits - it's the only method the USDA recommends for low-acid foods. All models feature a readable pressure gauge for accurate pressure control and an easy-to-read, 8.5 x 11" Instruction and Recipe Book. **We do not recommend cooking beans, lentils, etc. in our pressure cooker. **ALL-AMERICAN Pressure Cooker/Canners are NOT suitable for glass/flat top ranges and are for home use only.
21-1/2-quart pressure cooker/canner holds 19 pint jars or 7 quart jars
Made of durable, hand-cast aluminum with attractive satin finish
Exclusive "metal-to-metal" sealing system for a steam-tight seal; no gaskets
Geared steam gauge, automatic overpressure release; settings of 5 psi, 10 psi, and 15 psi
15-3/8 inches high with 12-1/4-inch inside diameter; made in USA
Product Details
Size: 21.5 qt | Color: Silver
Product Dimensions: 16 x 15 x 17 inches ; 20 pounds
Shipping Weight: 24.2 pounds
Domestic Shipping: Item can be shipped within U.S.
Shipping Advisory: This item must be shipped separately from other items in your order. Additional shipping charges may apply.