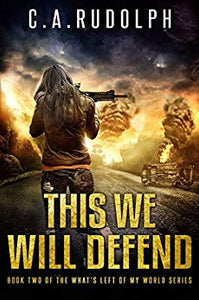 This We Will Defend
Regular price $14.99 Sale
For a brief period after the world changed forever, the self-reliant community of Trout Run Valley managed to avoid conflict. They practiced subsistence and found safety and security within their numbers. As the post-apocalyptic timeline moved forward, it began to spiral downward. Takers had made their presence known and their malevolent intentions clear, transforming the once benign community into a violent battleground.

In What's Left of My World, a precarious surprise attack had left the community in a state of repair and reevaluation. Even now as the community rebuilds and continues their livelihood, a new, more sinister enemy is lying in wait—and it poses a threat more dangerous than anything the community has encountered before.

A fight is coming to Trout Run Valley, and every person living there knows it. Previous encounters with their new enemy had foretold the tale. Before the collapse, Lauren Russell had learned many skills necessary to fight and to survive. Her father had made certain that she'd been trained to be a warrior. In THIS WE WILL DEFEND, in order to preserve her way of life, along with the lives of everyone she knows and loves, she will have to become one.