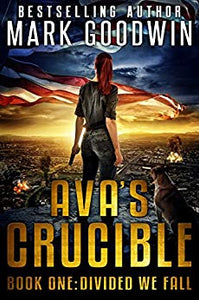 Divided We Fall: A Post-Apocalyptic Novel of America's Coming Civil War (Ava's Crucible Book 1)
Regular price $14.99 Sale
A Stolen Election. An Unlikely Heroine. The Second American Civil War.
The deck is stacked against twenty-nine-year-old Ava. She's a fighter, but she's got trust issues and doesn't always make the best decisions. Her personal complications aren't without merit, but America is on the verge of a second civil war, and Ava must pull it together if she wants to survive.
The tentacles of the deep state have infiltrated every facet of American culture. The public education system, entertainment industry, and mainstream media have all been hijacked by a shadow government intent on fomenting a communist revolution in the United States. The antagonistic message of this agenda has poisoned the minds of America's youth who are convinced that capitalism and conservatism are responsible for all the ills of the world. Violent protest, widespread destruction, and politicians who insist on letting the disassociated vent their rage will bring America to her knees, threatening to decapitate the laws, principles, and values on which the country was founded. The revolution has been well-planned, but the socialists may have underestimated America's true patriots who refuse to give up without a fight.
Ava's had a hard life . . . and it's about to get a whole lot tougher!
Ava has a long history of loss and abandonment. It's understandable why she's hesitant to put her faith in people, but she simply cannot survive on her own. She must deal with her crisis of faith and learn to trust others, or she'll never make it through the bloodiest period of America's history.