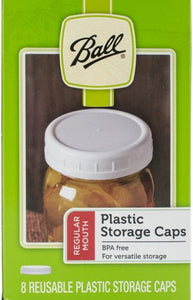 Ball Wide Mouth White Plastic Storage Lids - 8 Pack
Ball ~ the trusted leader in canning supplies! For wide mouth jars. Screw on caps.

No more rings and lids to mess with, not to mention the metal rings rusting in your fridge! Simply cap with these wonderful Ball storage caps!

Dishwasher safe! (No Jars included with this offer. Only caps.) These caps are not intended for heat processing. Use for storage only.

Great for leftovers, freezing food in jars or storing goods in your pantry!

We use these durable caps for all of our spices, herbs, nuts....so many things right here on our family farm! We love these reusable caps!