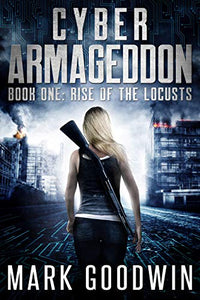 Rise of the Locusts: A Post-Apocalyptic Techno-Thriller (Cyber Armageddon Book 1)
Regular price $14.99 Sale
Cyber Armageddon has begun. America will not survive.
Cyber Security Analyst Kate McCarthy knows something ominous is about to happen in the US banking system. She has a place to go if things get hectic, but it's far from the perfect retreat.
When a new breed of computer virus takes down America's financial network, chaos and violence erupt. Access to cash disappears and credit cards become worthless. Desperate consumers are left with no means to purchase food, fuel, and basic necessities. Society melts down instantly and the threat of starvation brings out the absolute worst humanity has to offer.
In the midst of the mayhem, Kate will face a post-apocalyptic nightmare that she never could have imagined. Her only reward for survival is to live another day in the gruesome new reality which has eradicated the world she once knew.
As with all works by Mark Goodwin, this book contains no profanity and no embarrassing sex scenes. However, if you're offended by conservative principles and references to Scripture, this book might not be for you.