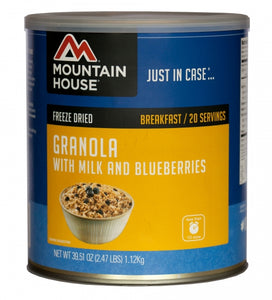 Granola - Milk & Blueberries
Regular price $61.50 Sale
Our freeze-dried granola makes the perfect breakfast, snack or even dessert when you're craving something slightly sweet. Made with real blueberries, crunchy oats and powdered milk, Mountain House's Blueberry Granola has fueled everyone from United States Special Forces to explorers on Antarctic expeditions and everywhere in between. Simply add hot or cold water to eat as a cereal, or skip the prep altogether and enjoy it by itself.
Available in two sizes — choose your own adventure:
Pouch - It's never been easier to take your favorite breakfast with you. Our Pouches are convenient enough to stash in your backpack or pocket. The best part? You can dig in straight from the pouch.
#10 Can - Over 35 ounces of our tasty dehydrated granola makes a great addition to your emergency food storage. Backed by a 30+ year taste guarantee, you can rest assured you'll always have a filling breakfast waiting for you, no matter what.