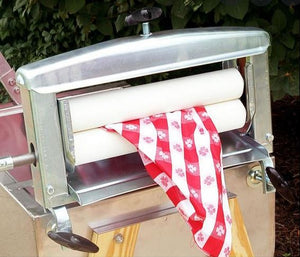 Hand Clothes Wringer
Regular price $229.95 Sale
Product Description and Features:
Clothes wringer removes water from clothes, towels and chamois, a true green laundry wringer.
Rust free steel frame like antique washing wringers used. Roller shafts are steel and are known to show rust.
Hand turned steel tube crank handle for manual clothes wringing. It takes work to turn when rollers are tightened down tight sufficient to get the most water out.
Zinc plated finish prevents rust like the old wringer washers and all parts are replaceable
Has angled clamps to stand straight when attached to round galvanized tubs or square wash tubs (use wood shims to aid securing) or boards as thick as 1.75"