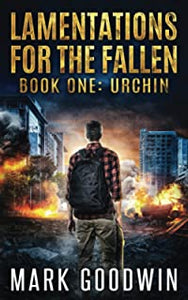 Lamentations for the Fallen - Urchin
Regular price $14.99 Sale
In an instant, an EMP attack plunges the nation into chaos.
Young parents Ethan and Brooke Spencer are on a romantic ski vacation in the Rockies when the lights go out, cars stall, and communications fail. Stranded eight hundred miles from home, they are desperate to return to their four-year-old twins and are willing to do whatever it takes to reach them.
When the lights go out, ordinary parents find themselves facing the end of the world as they know it. With chaos everywhere and society collapsing before their eyes, they'll have to risk everything to get home to the people they love.
Panic in the Rockies is book one in the Desperate Age Series, a high-octane, post-apocalyptic EMP survival series perfect for fans of Jack Hunt, Grace Hamilton, E. E. Isherwood, and Ryan Schow.