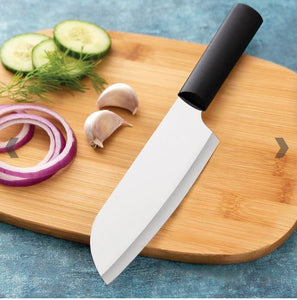 Cook's Knife - Black Handle
Regular price $17.30 Sale
Product Description:
The Cook's Knife features a long, slightly curved blade that's perfectly sized for easy control when dicing and mincing.  Larger than the Cook's Utility and smaller than the French Chef, it is often referred to as just right. It's versatility makes it an indispensable part of your kitchen.
Features:
We meticulously hand sharpen surgical-grade T420 high-carbon stainless steel to a razor-sharp edge.
Knives are hollow ground to achieve and maintain a sharp edge that lasts. When sharpening is needed, it's an easy and inexpensive at-home process using our Quick Edge Knife Sharpener (sold separately).

The offset handle keeps knuckles safe while cutting.