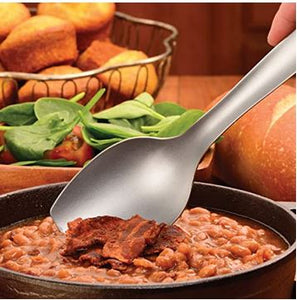 Cook's Spoon Plain - Nickel Stainless Steel
Regular price $12.60 Sale
Product Description:
LARGE COOKING SPOON  The large cooking spoon have an overall length of 11-1/2 inches. The bowl measures 2-1/2 inches wide, 3 inches long and ½ inch deep. Perfect for serving fruits and vegetables or cooking a delicious soup.
TOUGH & PRACTICAL DESIGNÂ  It is made from bead blasted, 300 series high nickel stainless steel. The unique stub-nosed design is great for safely stirring, scraping and reaching tough corners in pans.
STAINLESS STEEL HANDLEÂ  The long, stainless steel handle allows you to scrape the bottom of tall pans when stirring. The thumb recess is designed for easy indexing and balance.