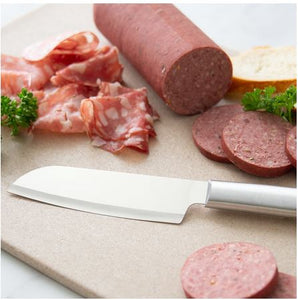 Cook's Utility Knife - Silver Handle
Regular price $18.00 Sale
Product Description:
One of our Top 10 best sellers, the Cook's Utility will quickly become an indispensable part of your kitchen. You'll find it's efficient like a paring knife, with capabilities you might otherwise find only in a larger knife. It's a fun little knife that will surprise you with personality.
We meticulously hand sharpen super-hard surgical-grade T420 high-carbon stainless steel to a razor-sharp edge.
Knives are hollow ground to achieve and maintain a sharp edge that lasts. When sharpening is needed, it's an easy and inexpensive at-home process using our Quick Edge Knife Sharpener.
Handles have a built-in finger guard to protect fingers while cutting.