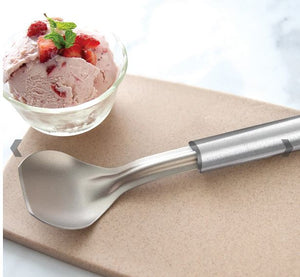 Ice Cream Scoop - Silver Handle
Regular price $16.60 Sale
Product Description:
Rada's Ice Cream Scoop makes America's favorite dessert easier to scoop, thanks to its stub-nose end that pushes through even the hardest-packed ice cream.  Crafted with a sturdy ridge that provides added stability, our Ice Cream Scoop will not bend! And the nice long handle means you can get down to the bottom of the bucket and keep your fingers clean.
This utensil is made from quality 300 series high-nickel stainless steel for great performance and superior durability.
The sturdy ridge adds no-bend stability, assuring it'll hold up to even the hardest ice cream.
Perfect for any kitchen or table.
All Rada Cutlery products are 100% made in the USA. That means ultimate craftsmanship and dependability.