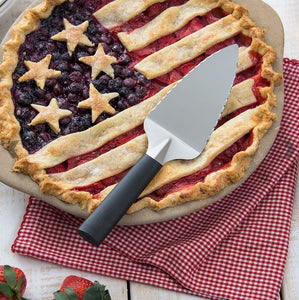 Serrated Pie Server - Black Handle
Regular price $15.60 Sale
RADA's Serrated Pie Server isn't JUST a pie server—it's also great for use on pizzas, quiches, round cakes, tarts, and anything else that's cut into wedges for serving. And this utensil does the cutting too, thanks to its sharp serrated edges. This utensil should be in EVERY kitchen!
This utensil is made from quality 300 series high-nickel stainless steel for great performance and superior durability.
The sturdy ridge on the angled face adds no-bend stability, assuring it'll hold up to any food.
Available in two handle styles, perfect for any kitchen or table.
All RADA Cutlery products are 100% made in the USA. That means ultimate craftsmanship and dependability.