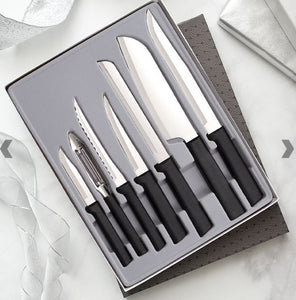 Starter Gift Set - Black Handle
Regular price $65.90 Sale
This seven-piece Starter Set includes a little bit of everything—perfect for giving a kitchen high-quality multi-functionality and great taste. Whether purchasing as a gift or for your own home, this set will pare, peel, and slice through any food in the house. Put it to the test and see why this is one of our best-selling gift sets.
The 7-piece Starter Gift Set includes a Regular Paring Knife, Vegetable Peeler, Tomato Slicer, Super Parer, Bread Knife, Cook's Knife, and Slicer.
We hand sharpen super-hard surgical-grade T420 high-carbon stainless steel for a blade with maximum edge retention.
Knives are hollow ground to achieve and maintain a sharp edge that lasts. When sharpening is needed for non-serrated blades, it's an easy and inexpensive at-home process with our Quick Edge Knife Sharpener.
Handles have a built-in finger guard to protect fingers while cutting.