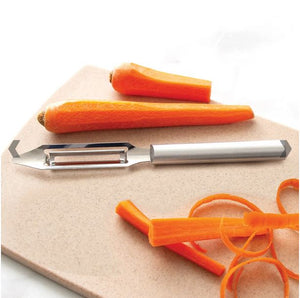 Vegetable Peeler - Silver Handle
Regular price $12.00 Sale
The RADA Vegetable Peeler is one of our most popular and celebrated products, and the best vegetable peeler you can find! With an ingenious swiveling blade that works well for right- and left-handed people, enabling them to peel in a motion toward or away from them.
We meticulously hand-sharpen surgical-grade T420 high-carbon stainless steel for a smooth, easy cut.
The specially designed dual-edge blade swivels for efficiency whether you hold the tool in your right or left hand, and does an amazing job of peeling just about anything.
The pointed tip removes potato eyes and blemishes, strawberry stems, and more.