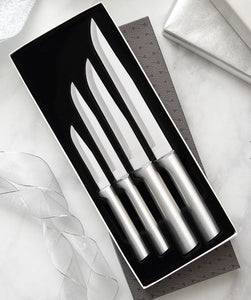 Wedding Register Gift Set - Silver Handle
Regular price $34.50 Sale
This four-piece Wedding Register Gift Set includes knives that make the future of any kitchen just a little bit brighter. All four knives were made with a specific purpose in mind, yet can be used on all kinds of foods, making them incredibly versatile and well loved. 
The 4-piece Wedding Register Gift Set includes a Regular Paring, Utility/Steak Knife, Stubby Butcher, and Slicer.
We hand sharpen surgical-grade T420 high-carbon stainless steel for a blade with maximum edge retention.
Knives are hollow ground to achieve and maintain a sharp edge that lasts. When sharpening is needed for non-serrated blades, it's an easy and inexpensive at-home process with our Quick Edge Knife Sharpener.
Available with a choice of silver satin aluminum handles or black resin handles. Handles have a built-in finger guard to protect fingers while cutting.