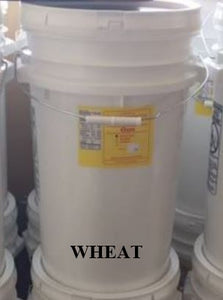 Hard White Spring Wheat, 50 lbs - Store Packaged
Regular price $89.00 Sale
Product Description:
50 pounds of hard white spring wheat, packaged in food grade bucket with Mylar bag and oxygen absorber.
Hard White wheat is by far our most popular wheat.  It's lighter than traditional red wheat and produces a very light, mild-flavored bread.  The nutrient content of hard white and hard red wheat is nearly identical.
Prairie Gold Kernels have a natural golden color and make 100% whole-wheat baked goods that are lighter and sweeter.  These kernels are chemical free and GMO free and great for use in recipes for breads, cookies, piecrusts and more.
NOTE:Â  FOR IN STORE PICKUP ONLY.