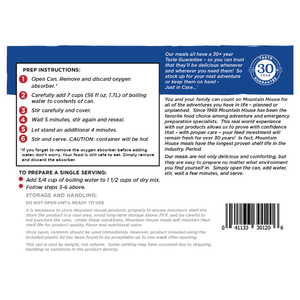 Spagetti with Meat Sauce
Regular price $51.29 Sale
What better way to end a long day on the trail or at the office than with a hearty Italian meal? Mountain House Spaghetti with Meat Sauce gives you that wholesome, comforting flavor of Italian cooking in hardly any time at all. Tender spaghetti noodles, hearty chunks of beef, rich marinara sauce - what's there not to love?
Mountain House Spaghetti is the ultimate solution for the impatient eater, adventurous explorer and over-preparer. It's available in three sizes to accommodate your unique needs:
#10 Can - Great for those nights where you want a homecooked meal but aren't exactly looking forward to the cooking part, our #10 Cans have a 30-year shelf life that makes them perfect for your emergency food supply.
Pro-Pak - If you often find yourself daydreaming about food on the mountain, the Pro-Pak is for you. It's vacuum sealed for high-altitude adventures and ultra portability, making this a great choice for backpacking excursions everywhere.
Pouch - Our freeze dried spaghetti Pouches make the perfect camping companions and pair exceptionally well with s'mores.