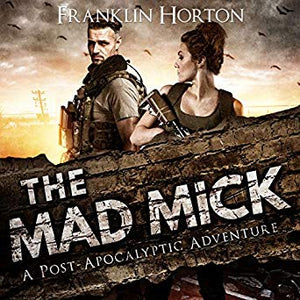 The Mad Mick: The Mad Mick Series, Book 1
Regular price $14.99 Sale
Conor Maguire nearly lost his daughter Barb when she was three years old, injured by the drunk driver that killed his wife. When the justice system failed him, Conor - the son and grandson of IRA bombers - retaliated against the driver in dramatic and gruesome fashion. While an ironclad alibi prevented the police from pinning the murder on Conor, it did not prevent a covert agency within the US government from recruiting the talented young bomber and machinist.
For over 25 years, Conor designed and built custom weapons of death and destruction at his compound in the mountains of Virginia. Then a series of devastating terror attacks brought down the United States. Conor and Barb assumed they were safe in their secure compound. They had food and a water source. They were armed and highly-trained. Then Barb was kidnapped.
The kidnappers, needing slave labor for their farm, didn't know why Conor was known as "The Mad Mick". They didn't know the fear and respect his name invoked in the shadowy world of covert operations. They didn't know that when it came to protecting his family, he was without conscience, without compassion, and without equal.
But they would soon find out.