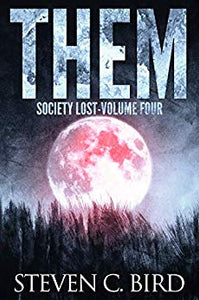 Them: A Post-Apocalyptic Dystopian Thriller: Society Lost, Vol. 4
Regular price $13.99 Sale
****From the author of the award-winning apocalyptic thriller, Erebus, and The New Homefront Series***

Worlds collide in Them: Society Lost, Volume Four as former sheriff Jessie Townsend becomes entangled with characters from The New Homefront Series in the hills of East Tennessee.

While Jessie continues his quest to find his sister after devastating attacks brought our modern, peaceful society to its knees, he encounters new friends and foes along the way, with not everyone being what they seem. During his journey, he forges friendships in the heat of battle that will change his life forever.