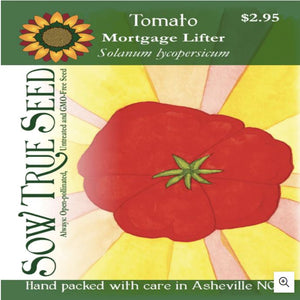 Slicing Tomato Seeds - Mortgage Lifter
Product Description:

Solanum lycopersicum
HEIRLOOM.  Full, pure, old-fashioned tomato flavor! Irregular-shaped, HUGE reddish-pink fruits can weigh up to 4lbs, although they usually don't go past 1 lb. So good, it's on the Slow Foods Ark of Taste!  Developed by M.C. Byles who was a radiator repairman who located his shop at the bottom of a steep hill, good business sense, and it got him his nickname of Radiator Charlie!  He bred 4 varieties of tomatoes together over several years to create this one and sold plants for $1.00, a large sum back then.  People came from all around to buy them, and he earned enough to pay off his mortgage.  Indeterminate.

These are beautiful, huge red tomatoes with outstanding sweet, rich flavor that are exceptionally meaty.  The flavor of the red tomatoes is so good that you'll want to eat them raw, cut over salads, or in salsa.  Just as good when canned or converted into sauces like ketchup, the firm flesh holds up well.  A big plant that produces a lot.