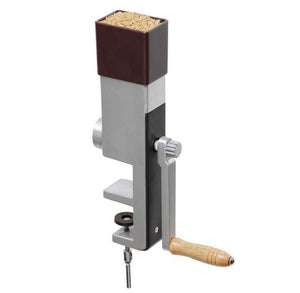 Roots & Branches Hand Crank Grain Mill - VKP1012
Regular price $115.99 Sale
Product Description:
Whole grains contain natural fibers, vitamins and minerals needed to maintain vibrant health.  Now there's a simple way to replace overly processed vitamin deficient foods with the fresh natural goodness of home-ground products.  Create an infinite variety of new textures and flavors in home baking, to make your own wholegrain breads, cereals snacks, and desserts with the Roots & Branches Grain Mill!
Versatility to grind wheat, rice, oats, barley, quinoa and other small, hard dry grain.
Cone-shaped stainless steel grinding burrs are self-aligning and precision machined to insure long life and smooth, even milling.
Easily adjusts with the front dial from coarse for cracked grains to fine for bread quality flour.
Compact and stores
easily in a drawer or cupboard and is always available when you need it.